Ovation
Project Details
ADDRESS | 94-104 Buckley Street, Footscray, Victoria, Australia 3011
DEVELOPER | Keystone Property Group
ARCHITECT | INTERIOR DESIGNER | KUD Architects
LANDSCAPE ARCHITECT | John Patrick
BUILDER | Platinum Construction
PRODUCT TYPE | 131 Apartments Over 9 Residential Levels from Level 1-10 With 3 Retail Shop Opportunities
PRODUCT MIX | 1, 2 and 3 Bedroom Apartments
PROJECT AMENITIES | Outdoor Dining and BBQ, Pool and Open Air Theatre
ESTIMATED COMPLETION | Late 2021
PRICE | 1 Bed from $357,500 | 2 Bed from $515,000 | 3 Bed from $650,000
Ovation Apartments
Modern Excellence Has A New Address. Unveiling Ovation Residences, Footscray
As Footscray's evolution continues to steadily progress, opportunities for cultural excellence have never been more readily available in this charismatic and colourful locale. Replete with dining destinations, shopping hubs and exceptional schools, the gentrified domain is one that seizes the very best of city living while still holding strong a relaxed, village-like energy characteristic of a suburban enclave.
This rapid transformation is also greatly reflected in the suburb's architectural landscape, filled with a diverse scope of residential masterpieces. Set to lead the vanguard is Ovation – a collection of masterfully designed apartments that have been curated to nurture a contemporary and convenient way of life.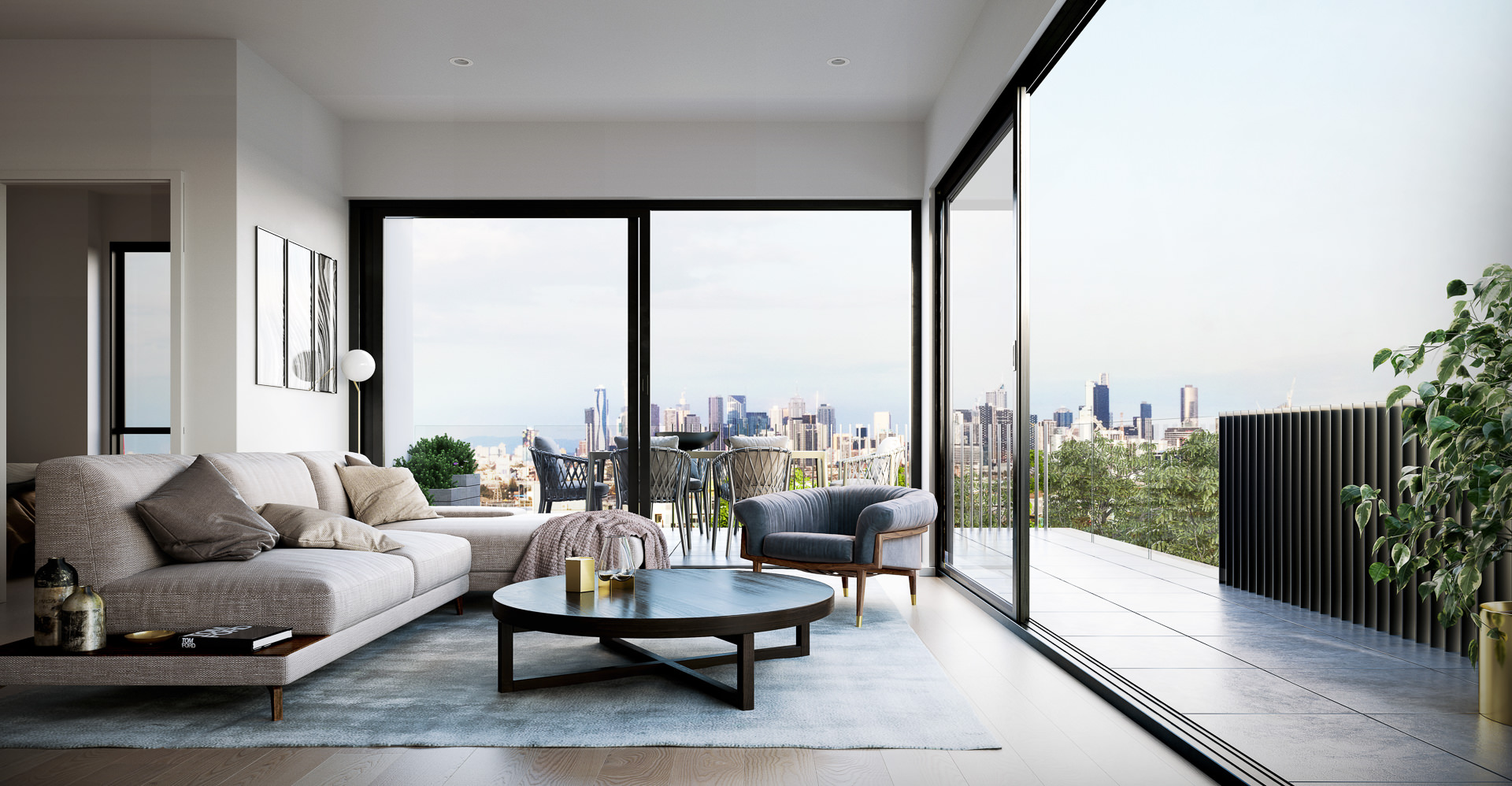 A Symphony Of Cutting Edge Design And Considered Interiors
Composed by the visionaries at KUD, Ovation honours Footscray's unique architectural character while establishing a new level of design ingenuity for the area. The façade speaks to the domain's industrial past, exhibiting red brick, concrete and steel – a selection of materials that meld together to form a contemporary yet neat and cohesive aesthetic. The building's form is bold in its depiction of recessed voids, unique shapes and protrusions. Bringing a layer of greenery to the development, the landscape design is integrated tactfully into recesses on the façade, juxtaposing the building's built form with lush, natural beauty.
Ovation's interiors were designed to evoke a homely atmosphere and a sense of familiarity in residents. Textured timber joinery teams with oak floors, imbuing living spaces with a neutral warmth; a blank canvas of sorts for you to fill with your own memories and moments. Kitchen benchtops are appointed with a modern concrete finish for style and durability, next to plentiful integrated storage. The interiors of Ovation are also very much defined by what exists outside of the apartments, with full height windows inviting in ample sunlight and stunning views of the city skyline and surrounding streetscapes.
Exotic Flavours, Unrivaled Atmosphere And Exceptional Cups Of Coffee
Footscray's universal charm stems from its diverse, multi-cultural and wholly innovative dining scene. Having experienced rapid-fire gentrification in recent years, the inner-western gem now plays host to a vibrant café culture and a melting pot of eateries churning out flavours from Asia, Italy, Africa and beyond. For brunch, waltz three minutes down the road to Victoria Street, where in-demand cafes like Common Galaxia, Hunter's Harvest and Alfa take residence. Footscray is equally as equipped when the sun dips, playing host to a bevy of sleek wine bars, lively restaurants, casual eateries and everything in between. Take your pick of two thriving dining precincts – Victoria Street and Barkley Street – with a selection of riverside destinations also at hand.
Stylish Homewares, Bountiful Food Stores And The Iconic Footscray Market
If you're someone who likes their pantry stocked with epicurean delights, their abode adorned in stylish homewares, and their markets abounding with first-rate produce, then Footscray will feel like a fantasy fulfilled. Enabling a life of total convenience, Victoria Street is your closest shopping precinct, where food stores like EKA Wholefoods and Sourdough Kitchen are bound to become your go-to grocery spots. A little further down on Charles Street, Simple Form is a chic store stocking furniture and homewares of the minimalist variety. Footscray Market is also within walking distance of Ovation, where every ingredient under the sun is at your beck and call.

Verdant Parks, Hubs Of Recreation And The Picturesque Maribyrnong River
As a resident of Ovation, opportunities for leisure and recreation are found in abundance. Despite its urban character, the suburb is peppered with open spaces and green, leafy retreats. Stroll over to Bristow Reserve, a pocket of greenery just metres from the project. With a playground and pergola at the ready, the park is the perfect spot for sunny picnics on warmer days. Watch the Western Bulldogs train at Whitten Oval, a stadium and social venue surrounded by several fitness amenities and a café. A stone's throw from home, there's also the idyllic Footscray Park, which sits beside a glistening stretch of the Maribyrnong River.
Outstanding Connectivity And Exceptional Educational Opportunities
Footscray is one of those rare suburbs that, while possessing a strong village atmosphere, enjoys connectivity characteristic to that of a city fringe locale. Located in the heart of Middle Footscray, Ovation reaps all the benefits of this attribute, close to public transport and several acclaimed schools. While Footscray is equipped with three well-serviced train stations, Middle Footscray station is virtually on your doorstep, together with the plethora of buses that run down Buckley Street. Scholarly offerings are also one of the suburb's defining factors, with Victoria University and Footscray City College located within your clutches.
Project Location
7km West of Melbourne CBD